As part of International Women's Month 2018, Lisel Burns is profiled by United Religions Initiative. In this portrait her work as a grassroots community leader is featured. The authors are Satya Kalra and Kay Lindahl.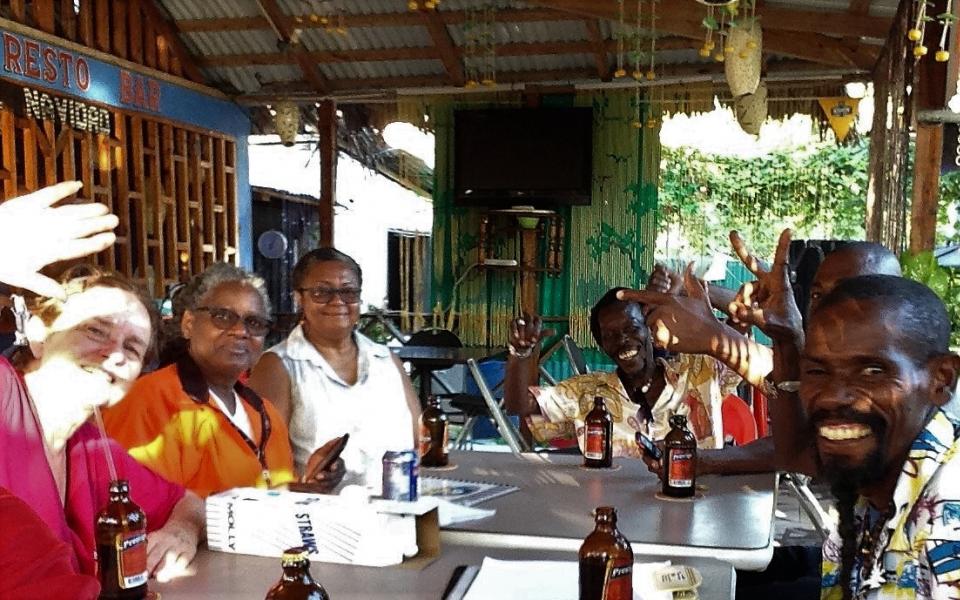 Lisel Burns was raised in a cross-class background — a Navy brat who moved frequently with her family.
Then in 1967, a Mississippi summer civil rights project gave Lisel her life direction and solidified her calling. The project was based on a strategy to partner students from two northern colleges with students from Tougaloo College in Mississippi. The three colleges applied together for federal funding that would support a summer program that allowed high school and college students to spend several months on campus together.
This project was an effort to support brave African American high school students who made the personal choice to integrate into white high schools for the first time in history. These students suffered harassment and bullying throughout the previous year. The ultimate goal of that bullying was to get these students to drop out of high school. The unified project was designed to empower them to stay in school.
Lisel feels that participating in this program changed many lives for the better, including her own. She found important role models in the multiracial partnerships and African American "high road" moral traditions that were guiding the civil rights movement. The experience also opened her eyes to how powerful and effective grassroots partnerships can be at overcoming obstacles in their community.
For the past 52 years, Lisel has devoted herself to doing just that by bringing out the leadership skills of others and working to foster cooperation among grassroots leaders and their potential partners. In 1970's she worked in New York City neighborhoods helping organize community-run childcare centers, helping them obtain funding otherwise granted only to "professional" social service agencies.
Lisel described a certain event with pride, "We took 400 children to walk around City Hall and adults stayed to sit in at NYC's Agency for Child Development." Then triumphantly added, "We obtained funds for 120 community child care centers!"
Lisel's role was largely facilitative, promoting a shared culture we called the "Leadership Support Process" (LSP). She also edited the Neighborhood Women Training Sourcebook, which was made available to grassroots groups and their partnering non-profit and academic colleagues in community development. During that period, grassroots women leaders began knowledge exchanges and mutual support systems across five regions in the United States. Led by these passionate women, this work went global via the GROOTS International by the mid 1980's. Lisel is proud to say that this powerful movement of lifting women's insights and leadership from the margins of life to the center of policy and decision-making has since expanded into 50 countries.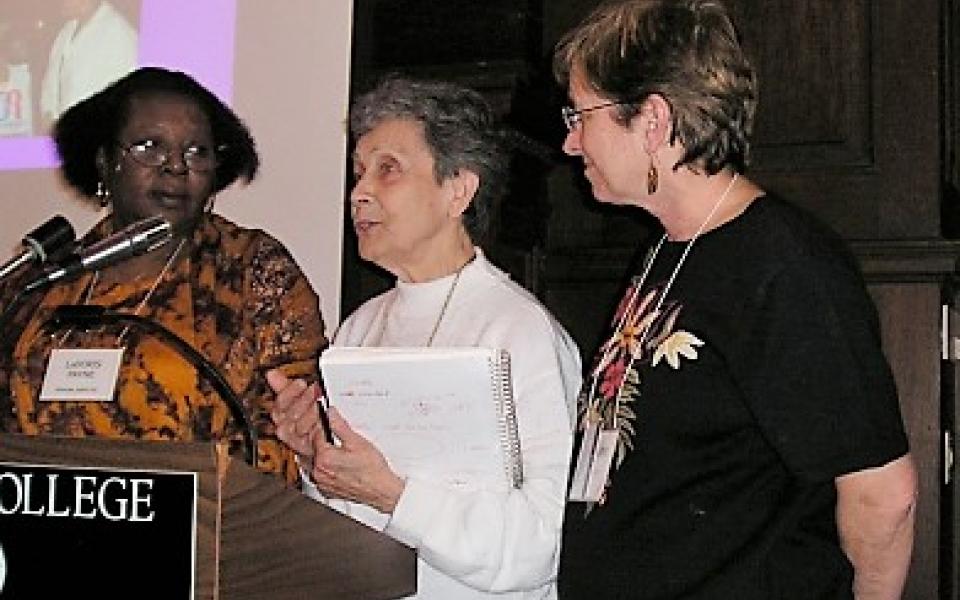 Through the 1980's and nineties, Lisel was active in several organizations, including the multiracial and multiethnic National Congress of Neighborhood Women and, to the global networks GROOTS International — Huairou Commission. It was involvement in these organizations that evolved into her newest passion: for Haiti.
Lisel stated, "Since then, themes of collaborative leadership support, learning practices, and community development partnerships across generations and faith traditions, have motivated the congregational, or otherwise place-based movements, partnerships and community projects I admire and support." She wanted to be part of creating a place for people living in urban areas like New York, but still, have a respect for grassroots faith traditions.
When Lisel first visited Léogâne, Haiti as clergy for Brooklyn Society for Ethical Culture(BSEC), in the mid-1990's, she knew she was visiting one of the poorest countries in the Western Hemisphere. But extreme poverty wasn't the only thing she witnessed. At the time of her initial visit, Lisel was also struck by the small community's vibrant energy.
"Yes, there were a lot of obvious needs but there were also institutions—markets, community groups, churches, and an infrastructure that held people together," she began. Shortly after that initial visit, in 1997, she became intricately involved in a new foundation called NEGES, Nest for Educational Growth and Environmental Safety. NEGES was co-founded by Yoleine Gateau and James Philemy, members of BSEC and Haitian American educators.
When a 7.0 earthquake hit Haiti in 2010, Lisel was part of the NEGES team that arrived in Léogâne shortly after the quake. She went on that trip representing the Brooklyn Society for Ethical Culture, and GROOTS International — Huairou Commission.
"How can we tolerate endless suffering and not do something to bring the world's marginalized people into the circle of care?" Lisel asked. The heartbreak and devastation she saw impassioned her to get more involved in Haiti. Her dream at that moment was that this horrendous experience would be a "9-11" moment and would bring the people of the US and the world together in an act of selfless service to humankind.
"I was so moved by my friend Yoleine who said, 'The children belong to the whole village.' [That village] came together to provide different resources to support their upbringing," she added. Lisel began thinking about how that village model might apply in her home neighborhood of Brooklyn, New York.
"[We focused on] thinking of and identifying the caring resources in our neighborhood — using our various congregational space to share resources," Lisel explained. "Thinking about ways in which our neighborhood could be a model of caring forces working together."
And in 2016, Lisel and her Latter-Day Saint [Mormon] neighbors, Carollynn and Terry Alexander, co-founded Stronger Together Across Traditions. They had a strong sense they should become a United Religion Initiative Cooperation Circle and saw it as a strategic and non-threatening way of bringing different people together and into communication from the heart. Lisel soon recruited Jaque DuPree and Yoleine Gateau. DuPree, a longtime artist and musician, brought her passion for the faiths, songs and sacred arts of the African diaspora including Yoruba, Vodoun and the African American church traditions of her childhood.
DuPree, being raised in foster homes, started her journey towards cooperation and interfaith work at a very young age. Without being consciously aware of how she was being shaped, her life was affected. When pondering the process of coming together through common ground, DuPree was animated as she described her favorite thing about what they are doing, "Growing up as a foster child…I had an opportunity to share a number of belief systems, and to tell you the truth, I saw everyone seeking the same thing — secure homes, a way to take care of their family, and happiness in their lives!"
So much of this, Dupree believes, is caused by fear. And if she was blessed with the magic to do one thing to change the world, fear is what she would remove. Doing so would change our hearts and our minds, she said, adding with almost a sense of pride in her voice, "You raise a family, you raise the community…you raise a nation, you raise the [human] race…it's so important!
Lisel agrees. Her enthusiasm was palpable as she shared, "I found that uniting around shared values was the best way to unite the integrity of the group. But the bureaucracies of religious traditions so often hold back participation. So, when Martha [Gallahue] told me there was a way, through URI, for caring forces to connect, I was so drawn to it."
"[URI is a way] to have the benefit of interfaith work while bypassing the understandable, but awkward infrastructures of religious institutions," Lisel elaborated. "This also enables us to more easily engage across traditions. This structure enables individuals, rather than institutions, to focus resources and energies."
Of all the work she's done in her lifetime, Lisel insists that she hasn't done anything alone — that everything she has accomplished was because a group of people were working in connection with each other. "Think of me as an assistant to the grassroot leaders of these groups," Lisel said. "We need each other — we can't do it alone."